Color Corrector
Introducing the Smilebe Color Corrector with instant color correction technology. Our safe and non-invasive procedure utilizes a high concentration of active components to balance the various shades of teeth, concealing stains and enhancing enamel brightness. Experience snow-white teeth and fresh breath with no comparable alternatives.
Utilizes instant color correction technology
Provides a safe and non-invasive procedure
Contains a high concentration of active components
How does the Smilebe Corrector work?
The Smilebe Corrector utilizes color correction technology, which neutralizes the yellow tones in teeth by using purple, which is the opposite color on the color wheel. The serum's active components work to balance the various shades of teeth, resulting in a brighter, whiter smile that conceals stains and enhances enamel brightness. The procedure is gentle, safe for gums, and reduces sensitivity.
When is the best time to use the Smilebe color corrector serum?
The Smilebe color corrector serum is most effective when used after whitening teeth with Smilebe bleaching agents. However, it can also combat yellow discoloration on enamel after professional whitening treatments. For optimal results, it is recommended to use the serum daily. In situations where quick results are necessary, such as for an important event, the Smilebe Corrector serum can be a helpful solution.
Glycerin, Aqua/Water, Sorbitol, Hydrated Silica, Xylitol, Polysorbate 80, Cellulose Gum, Mentha Piperita (Peppermint) Oil, Phenoxyethanol, Sucralose, Tetrasodium Pyrophosphate, CI17200/D&C Red No. 33, CI42090/FD&C Blue No.1, Ethylhexylglycerin
View full details
Excellent solution to brighten your smile and make it shine!
Are you familiar with purple shampoo for hair?
By applying purple to the teeth, Smilebe Corrector neutralizes yellow tones and brightens your smile.
The perfect shade of deep purple that effectively neutralizes yellow
Our deep, dark purple Smilebe Corrector effectively neutralizes yellow discoloration, making it a great solution for achieving a brighter, more radiant smile. Use it daily or as a quick touch-up before an important event. It's also a great addition to further enhance and maintain the results of enamel whitening treatments.
Are you new to teeth whitening ?
If so, Smilebe Corrector is an ideal solution. It can be used to adjust enamel color after using a professional teeth whitening kit or as the first step to achieving a brighter smile.
How to use?
Squeeze an even layer of the serum onto a clean, dry toothbrush.
Brush your teeth for 1-2 minutes.
Rinse your mouth thoroughly and remove any remaining serum.
Enjoy your new snow-white smile!
Introducing a new way to enhance your smile with the help of color correction technology.
Simply use Smilebe Corrector or after your whitening procedure, as partof your daily routine, or before an important meeting for an express method toachieve a bright, snow-white smile.
Add to cart
$29
$49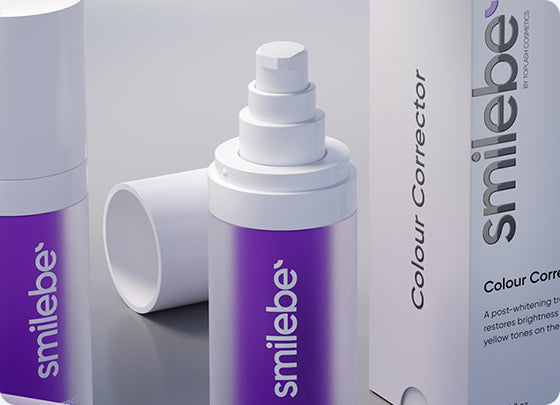 Frequently Asked Questions (FAQ) about SmilebeCorrector
How often should I use Smilebe Corrector?
For best results, we recommend using Smilebe Corrector daily as part of your oral hygiene routine. However, you can also use it as a quick touch-up before an important event to improve the brightness of your smile.
Can Smilebe Corrector cause sensitivity?
Smilebe Corrector is a gentle and non-invasive product that does not contain harsh abrasives or chemicals. However, as with any whitening product, some people may experience sensitivity. If you experience any discomfort, discontinue use and consult with your dentist.
Is Smilebe Corrector safe to use during pregnancy or breastfeeding?
We recommend consulting with a doctor before using Smilebe Corrector or any whitening product during pregnancy or breastfeeding.
Can I use Smilebe Corrector if I have braces?
We recommend waiting until the braces are removed before using any whitening product, including Smilebe Corrector, as braces can cause uneven color correction.
Can Smilebe Corrector be used as a substitute for regular brushing?
No, Smilebe Corrector is not a substitute for regular brushing. It should be used in conjunction with a regular oral hygiene routine, including brushing twice a day with toothpaste, flossing, and visiting the dentist for regular check-ups.