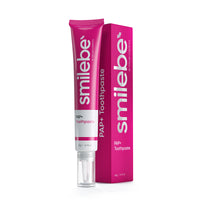 PAP+ Whitening Toothpaste
Our highly effective formula is perfect for maintaining whiteness and restoring tooth enamel after recent whitening treatments. It's an easy-to-use and gentle daily whitening tool that can be used multiple times a week to keep your smile bright and healthy.
Provides effective post-bleaching support

Promotes the remineralization of tooth enamel

Gentle on both enamel and gums



Glycerin, Sorbitol, Aqua/Water, Xylitol, Hydrated Silicon Dioxide, Copolymer Acryloyldimethyltaurate Ammonium/VP, Sodium Lauroylsarcosinate, PVP, Phthalimidoperoxycaproic Acid (PAP), Potassium Citrate, Hydroxyapatite, Sodium Hexametaphosphate, Peppermint Oil (Mentha Piperita Oil), Mica (CI77019), Phenoxyethanol, Potassium Hydroxide, Caprylyl glycol, Titanium dioxide (CI77891), sodium saccharin, arginine.
View full details
Thefirst step to teeth whitening.
The Smile be POP+ toothpaste is designed towhiten teeth without the use of abrasive agents that can damage tooth enamel.Instead, it uses an advanced whitening formula to achieve a brighter, moreradiant smile.
PAP+ is an effective alternative to traditional teeth whitening formulas that use peroxide-based ingredients, as it is less likely to cause tooth sensitivity or irritation.
Three powerful ingredients
Whitening
PAP+ provides a safe and effective way to whiten tooth enamel without causing pain or negative side effects, making it an ideal choice for individuals with sensitive teeth.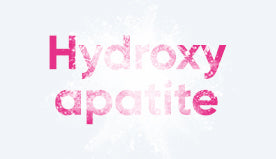 Strengthening
Hydroxyapatite is the main component of bone tissue and teeth, and helps to replace lost minerals in damaged areas of enamel, making the teeth stronger and more resilient.
Protecting
Potassium Citrate powerful desensitizing agent that helps remove pre-existing sensitivity. It penetrates the tooth and dentin layer, providing long-term protection against pain and hypersensitivity.
Here's how to use our PAP+ toothpaste
Squeeze a small amount of toothpaste onto your toothbrush and brush your teeth for two minutes, twice a day.
While using our PAP+ toothpaste every day is not mandatory, we recommend that you incorporate it into your dental care routine for optimal results.
We also recommend using our toothpaste 2-3 times a week after completing a whitening treatment to maintain the results and restore your tooth enamel.
Say goodbye to tooth stains and hello to a snow-white smile with Smilebe PAP+ toothpaste!
Our advanced formula doesn't rely on harsh abrasives to whiten tooth enamel. Instead, we use our proprietary whitening formula to oxidize stains and remove them gently. The active ingredient, PAP (phthalimidoperoxycaproic acid), brightens spots and discolorations without causing any pain, hypersensitivity, or irritation to your gums.
With regular use, Smilex PAP+ toothpaste can effectively whiten your teeth and give you a bright, confident smile you'll love to show off!
Got a questions? We've got answers
Is Smilebe PAP+ paste safe for tooth enamel?
Yes, Smilebe PAP+ paste is safe for your enamel. Our toothpaste uses a non-abrasive whitening method that oxidizes stains on teeth with the active ingredient PAP. This provides effective results without causing any hypersensitivity, irritation of the gums, or damage to the enamel.
How long does it take to see results from Smilebe PAP+ toothpaste?
The time it takes to see results from any whitening product can vary greatly from person to person. There are many factors that can affect the results, such as age, types of stains, diet, and more. However, PAP+ toothpaste will immediately begin to work on eliminating stains on teeth and help preserve their whiteness by fighting the stains that form daily. Regular use will speed up the whitening process and help achieve desired results much faster. The toothpaste is ideal for maintaining a snow-white smile after recent whitening, and we recommend using it several times a week to maintain results.
Is it possible to use the paste with veneers,crowns, or fillings?
While veneers, crowns, and fillings cannot be bleached, Smilebe's PAP+ whitening formula can oxidize stains on your natural teeth, resulting in a uniform enamel tone and color balance between your natural teeth and any dental restorations. However, we advise consulting with your dentist before using the product to ensure its suitability for your specific case.