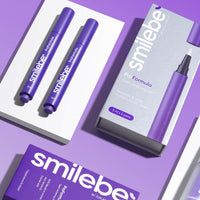 Pro Whitening Pen
Introducing Smilebe Pro Whitening Pen, the fast and convenient way to achieve a snow-white smile anytime, anywhere. With our ProFormula-based gel, you can experience professional-grade teeth whitening in just 15 minutes per day. Our pencil bleaching method is 5 times more cost-effective than an in-office procedure, making it a budget-friendly option for a brighter smile.
Instant teeth whitening
Experience the convenience of metal-cased 
Designed to be safe for your enamel and gums

ProFormula is a powerful bleaching compound that has been clinically proven not to cause pain or sensitivity during the bleaching process. It contains Carbamide Peroxide (CP), which is a stable and more effective alternative to Hydrogen Peroxide (HP) for expert bleaching
What is included in the package?
2 ProFormula Teeth Whitening Pens ( 30 treatments)
Carbamide peroxide, Glycerin, Propylene Glycol, Water, Carbomer, Cellulose gum, PVP, Menthol, Sodium Hydroxide
View full details
Comparing
| | | |
| --- | --- | --- |
| | Smilebe | Other |
| ProFormula | | |
| Safe for sensitive teeth | | |
| Durable aluminum pen | | |
| 90-Day Whitening Guarantee | | |
How to use
Clean your teeth with toothpaste or tooth powder for 1-2 minutes.
Dry the surface of your teeth.
Press the pump on the pen several times until the gel appears on the tip.
Smile and apply the gel in one layer on 6 upper and 6 lower teeth.
Wait for 30 seconds before closing your mouth.
After 15 minutes, rinse your mouth with water.
Remove the remaining gel.
Repeat the procedure every day until you achieve the desired results or to maintain the whiteness of your smile.
That's it! Remember to follow the instructions carefully for optimal results.
Professional-grade teeth whitening experience
ProFormula-based gel that effectively brightens your teeth for a stunning, snow-white smile.
Add to cart
$39
$64
A snow-white smile anytime, anywhere
Our pen is an essential companion for those who value the beauty of their smile but don't have a lot of time to spare.
Transform your smile in seconds with Smilebe Pro Whitening Pen.
This powerful yet affordable whitening solution delivers professional-grade results in just two simple clicks.
FAQ
Is Smilebe Whitening Pen safe to use?
Although a small percentage of people may experience sensitivity from tooth enamel bleaching agents, in a clinical trial using Smilebe whitening gel, participants did not report critical discomfort or hypersensitivity. To minimize negative effects of tooth enamel whitening, modern components such as PAP+ (Phthalimidoperoxycaproic Acid) and CP (Carbamide Peroxide) are used.
Can I use Smilebe Whitening Pen during pregnancy or breastfeeding?
It is recommended to consult with a doctor before using Smilebe products during pregnancy or breastfeeding as every pregnancy is individual.
Can I use Smilebe Whitening Pen with veneers, crowns, and fillings?
Veneers, crowns, and fillings require special care and supervision from a dentist as they are resistant to bleaching. However, Smilebe's ProFormula is designed to provide a uniform enamel tone and color balance between natural teeth and artificial surfaces. It is recommended to consult with a dentist before using the product.
Can I use Smilebe Whitening Pen with braces?
It is recommended to wait until braces are removed before undergoing a bleaching procedure or consulting with a dentist due to the risk of uneven bleaching.